Sinus disease is one of the major health problems in USA. It badly affects nearly 31 million people in the United States. More than $1 billion are spend each year by American on over-the-counter medications and supplements to treat sinuses.
People having allergies, asthma or with weak immune systems are at higher risk. There are many natural wellbeing supplements and among them is the wonderful Sinus Blaster. In this article, we will discuss this herbal supplements for a sinus infection. This Cold & Sinus Blaster Supplement helps you get relief from many sinus symptoms.
About Cold & Sinus Blaster For Nasal Congestion
Natural Wellbeing Cold & Sinus Blaster offers an instant, remarkable, and direct impact upon the sinuses. This extremely pungent formula contains strong aromatic compounds that produce vapors. These vapors rise to the sinuses to open them and dilate the passageways to ease breathing. It then drains them and helps to kill the microbial infection.
Sinus Blaster's initial effect will remind you to wasabi i.e. the green horseradish paste served with Japanese food. It produces a fast-acting, temporary intensity that leads to a warm sensation in the sinuses which feels soothing.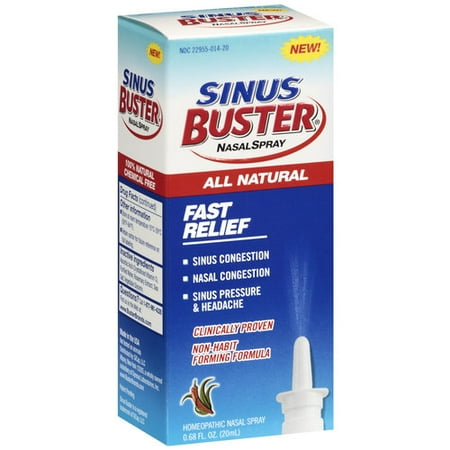 Cold & Sinus Blaster Nasal Supplement
Cold & Sinus Blaster Supplement helps you get relief from many sinus symptoms. It is also very beneficial for Sinus infections, sinus headaches, Allergies, Colds, flu, Bronchitis and respiratory infections, hay fever as well as congestion due to air travel.
This supplement will help open even the most stubborn and clogged sinuses. Repetitive doses all through the day can help maintain sinus drainage. It also improves breathing and reduces the healing time. For acute sinus, use it several times a day, or use occasionally for temporary need. It offers fast relief for painful sinuses and congestion thus letting you breathe easier, quickly. It is also very beneficial for Sinus infections, sinus headaches, Allergies, Colds, flu, Bronchitis and respiratory infections, hay fever as well as congestion due to air travel.
Natural Wellbeing Sinus Blaster Features
The several features of Cold & Sinus Blaster are
Superior Quality – The product is made from certified organic, sustainably cultivated and ethically wild-harvested botanical sources.
Full-Spectrum Extract – To ensure highest potency extract, the full biochemical spectrum of each herb is preserved very well.
Each Batch is tested – Every single batch undergoes tests to ensure the superior quality.
NSF cGMP-Certified Manufacturing Facility – The manufacturing facilities are NSF cGMP-Certified. This protects the consumers by ensuring that the highest standards of manufacturing have been strictly followed.
Guaranteed – In addition to its superior quality, Sinus Blaster comes with 90-day, money-back guarantee.
Size and Price – Cold & Sinus Blaster is available in 2 oz (59 ml) size and is available at a low cost below $30.
Made in USA – It is proudly an USA Product
Sinus Blaster Benefits & Uses
Cold & Sinus Blaster is beneficial for sinus infections and congestion from colds, flu, allergies, and environmental factors. Its decongestant like feature can help even the smokers. In general, it helps open the breathing passageways to make breathing easier. It is best to take several deep inhalations after using Sinus Blaster. This will assist the vapors to go straightly direct to the sinuses. So the deeper you inhale, the deeper it works.
Alternatively, you can also use these two products before an athletic event or for high altitude sickness to breathe easily. It is also useful for congestion due to air travel. Sinus Blaster also helps improve Sinus headaches and sinus congestion. Use before bedtime, to reduce snoring related to nasal and sinus inflammation and swelling.
Cold & Sinus Blaster Ingredients
The Sinus Blaster is an herbal supplement containing a variety of herbs that are of pure grade quality.
The vapors from Peppermint Oil and fresh Horseradish root reaches into the sinus cavity and opens them. The pungency of Cayenne, Garlic, Onion, and Horseradish increases overall circulation. Generally, the sinus cavities have poor circulation and these herbs helps in bringing more immune compounds from the blood into the sinuses, to better fight infection.
The added immune stimulating action by herbs such as Echinacea, Goldenseal, Spilanthes , Olive leaf, Elderberry, Garlic, and fresh Osha helps stimulating the body's immune system and ward off infection.
Other ingredients include decongesting herbs such as Horehound, Wild Cherry, Licorice and Osha to cleanse the lungs and quick healing. Its fever-managing herbs like Boneset, Osha, Yarrow, Andrographis, and Peppermint helps re-establishing immune homeostasis. This herbal supplement helps to thin out thick and viscous mucous for optimum relief.
Its Active Ingredients include
Fresh Horseradish Root (Armoracia rusticana)
Echinacea Root (Echinacea angustifolia)
Fresh Spilanthes Herb (Acmella oleracea)
Elderberry Berry (Sambucus nigra)
Garlic Bulb (Allium sativum)
Cayenne Fruit (Capsicum annuum)
Olive Leaf (Olea europaea)
Horehound Herb (Marrubium vulgare)
Licorice Root (Glycyrrhiza glabra)
Peppermint Oil (Mentha piperita)
Boneset Herb (Eupatorium perfoliatum)
Goldenseal Root (Hydrastis canadensis)
Wild Cherry Bark (Prunus virginiana)
Fresh Osha Root (Ligusticum porteri)
Andrographis Herb (Andrographis paniculata)
Onion Bulb (Allium cepa)
Yarrow Herb (Achillea millefolium)
Its Other Ingredients are – Deionized Water, Grain Alcohol, Vegetable Glycerin and Organic Honey.
Sinus Blaster Dosage
Natural wellbeing recommends the following dosage.
For General – Take 15 to 30 drops directly into the mouth or mix in water or juice, one to three times in a day.
For Acute Infection – Take 15 to 30 drops every 30 minutes to 2 hours until congestion clears up.
Sinus Blaster Warnings
Kindly adhere to the following warnings that come with Sinus Blaster –
It should not come in contact with any sensitive body tissues.
If you are taking any other medications or have any health condition, consult your doctor before use.
Do not use the product if you are pregnant or nursing.
Keep it out of reach of children.
If any adverse symptoms are experienced after using this product, discontinue use and consult your doctor immediately.
Is It Safe To Use Cold & Sinus Blaster?
Cold & Sinus Blaster is a product of Natural Wellbeing Distribution Inc. which was found in 2001 and offers a wide range of safe effective products for several health conditions. Its goal is to bring the herbs natural healing capabilities to the world.
Sinus Blaster includes only the purest and carefully sourced ingredients that are effective in healing. All the formulation fall in sync with the traditional techniques of using herbs for health and wellbeing. In addition, these conventional methods are integrated with the latest scientific research to bring you professionally developed herbal formulas like Sinus Blaster. This product is one of the best natural, holistic supplements available for sinuses. All Natural Wellbeing products including Sinus Blaster are manufactured in NSF cGMP-Certified Manufacturing Facility, ensuring the highest quality products. Their customers always appreciate the company's passion for developing natural remedies and formulating safe products that motivates them immensely.
Sinus Blaster Coupon Codes & Discounts
There are many natural wellbeing coupon codes and promo codes of Cold and Sinus Blaster available online across the web. Search for them and you may find special offers such as Save Up To 10% Off Sitewide by using natural wellbeing Promo Code: Save10 or Get 15% Off by using Promo Code: FRESH16 or Get 10% Off on Promo Code: promo10 and many more.
In addition, the Natural Wellbeing official website www.naturalwellbeing.com also includes an exclusive coupons tab where ongoing offers and discounts are available. Moreover, currently ,they are offering free shipping on orders over $50 plus 90-Day, Money-Back Guarantee. Also, sign up for their monthly newsletter by email and receive exclusive promotions directly to your mailbox.
Cold And Sinus Blaster Customer Reviews
There are not many customer reviews available for the Cold and Sinus Blaster supplement. However, the company claims that all its products effectively work and there are several happy customers who appreciate their efforts to prepare these wonderful herbal supplements.
In addition, Cold and Sinus Blaster is an herbal formulation which is safe to use. Plus, it includes top quality helpful ingredients which may not cause any side effects. However, if you are allergic to any herbs than please check with your doctor before use. I would recommend to give Cold And Sinus Blaster a risk free try as it comes with a back up of 90 day Money-Back Guarantee.
Frequently Asked Questions
Where are the ingredients in Sinus Blaster taken from?
Sinus Blaster ingredients are taken from suppliers who meet stringent vendor qualifications and rigorous GMP standards, including the highest quality of purity and safety.
Are there any side effects or precautions of Sinus Blaster?
Do not use Sinus Blaster if you are pregnant or nursing and avoid direct contact with sensitive body tissues.
Can I use Sinus Blaster with other medications?
If you are taking any medications (prescription, over-the-counter, other supplement or natural remedies), or have any health condition, inform your doctor before taking Sinus Blaster.
Does Sinus Blaster come with a guarantee?
Yes, it comes with a 90-day, money-back guarantee. The company will refund the entire purchase price of the order (less shipping) and there are no hidden fees or re-stocking fees.
What are company contact details?
You can call or email the company customer service representatives
Phone no. – 1-800-536-9353 (Mon – Fri 9am to 9pm EST Sat – Sun 11am to 8pm EST)
Email – customerservice@naturalwellbeing.com
Conclusion
Sinus Blaster offers you relief from many sinus symptoms. It is a natural supplement from plant extract which won't give you instant results like prescription medication. The company asks you to give it some time to work i.e. try for full 30 days before deciding the product efficacy. If it works great or else you may return for full refund less shipping within 90 days. Give Cold and Sinus Blaster a hassle-free try today.